My cyberpunk novella, "Mac," is inspired by Shakespeare's Macbeth and appears in the first Writerpunk Press anthology, Sound & Fury: Shakespeare Goes Punk Volume 1.
It's set in a near future, post-apocalyptic world where behavior and ambition are controlled by use of brain moddy chips. See what happens to Mac when his ambition is released! Note this is a standalone story that takes place in the same world as "Hank" in Volume 2.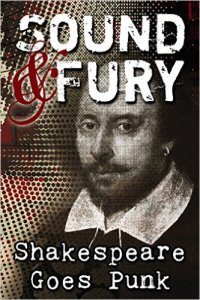 Airships and sky pirates! Brain Modification chips! Technologically enhanced nymphs!
We have taken the plays that audiences have enjoyed for hundreds of years and reinvented them as cyberpunk, dieselpunk, Teslapunk and steampunk tales.
Featuring comedies and tragedies as well as a wide variety of punk genres, this collection has something for everyone. A spirit of subversive fun is strongly encouraged.  Sound and Fury: Shakespeare Goes Punk is our first anthology of stories based on the Bard's work.