Carol Gyzander writes under her own name, even though few can spell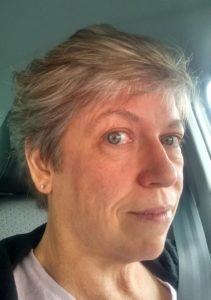 or pronounce it (think "GUYS and her").
She was a prolific reader of the three "A" writers in her early days: Andre Norton, Asimov, and Agatha Christie.
Since they moved every two years, Carol had lots of reading time on her hands as the perpetual new kid. But she became adept at people-watching in order to fit in at each new school, and followed this up by studying anthropology—the study of people and their culture—and lots and lots of English literature at Bryn Mawr College.
Now that her kids have flown the coop, she has gone back to her early loves with a thriller/detective novel and more science fiction in the works.
She lives in New Jersey with the writer's requisite cats.